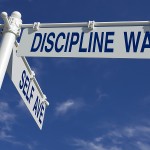 The statement "Discipline is a prerequisite to a successful life," sounds very simple. In reality, it is not so. There is a need to have deep insight of discipline and organization for a successful life.
Discipline In Life – Why is it so important?
It should be learned that success does not come to those who are undisciplined in their matters of life. In fact, success is acquired by those who strive consistently and regularly, rather than sporadically. Indiscipline and messy behavior can bring some temporary success but discipline, for a known fact, surely and certainly takes you to success in life.
After all, which path would a rational person choose? A steady one that is certainly going to take him to his destination or a short cut that might take you to your destination in a short time?  Certainly the former one, you would say. By being steady and acquiring discipline in life, you become successful in life and this success is not a flash in the pan but permanent because you have acquired this royal habit.
Can't I just go on without having discipline in life? Why or why not?
Consistency, regularity, and discipline are the traits that have led the flourishing people where they are right now. Read their biographies and you will find a common characteristic in them all – discipline. Similarly, best selling writers reveal that a disciplined routine is the secret to their success before they are penning down all the time rather than writing irregularly. The great scholars are the ones who put in long, untiring hours of persistence and determination to write and research.
Even all the successful athletes will tell that they are successful because they work hard and practice all the time until the time they acquire new skills and flourish their talent through discipline. Amusingly so, if discipline did not have as much importance as we have emphasized, it would not have been possible to lose weight and cut down on those extra pounds by exercising irregularly once a week or month.
Your journey to progress is accompanied by many challenges that you encounter as you go along. But discipline helps you deal and overcome to get to the next stage. You need to conquer your discipline during the disappointing days, which are inevitable in everyone's life. Discipline will help you to triumph when the things do not go your way.
Acquiring discipline in life – is it difficult?
Acquiring discipline in life is not a difficult task. It is a habit that can be possess by merely practicing. Having a clear, defined ambition, following a plan of action, and staying positive is all you need. If you can adopt these three simple steps, you are sure to have a much more disciplined life than before – which will ensure you of a life full of accomplishments.
Visit this website now to have discipline in life that will not only ensure your success but will also eradicate all life-long problems. In an attempt to help you flourish your skills and have a discipline in life, it is very important to know what you want and how you want to proceed in your life.