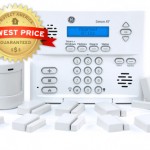 Building wealth is very important – keeping your family safe with a home security systems is priceless! Did you know that in America alone, a home burglary is committed every 14 seconds? Leaving your home unprotected can mean thousands of dollars of lost assets for you — or worse, put your loved ones at risk. That's why home security systems are always a good investment, and this article will show you how to protect your home quickly, easily, and within budget.
Find A Home Security Systems Provider You Can Trust
There are lots of home security system providers out there, so it's important to check each provider available to you. You'll want to work with a provider with a good track record and a long list of satisfied clients. (I can help you with that, but I'll save that for later!)
The most important thing, of course, is the security system itself. Check if the provider has all of these three components of a good home security system: Door sensors, windows sensors, video surveillance and motion detectors.
Let's start with the most basic form of home protection:
Home Security Systems – Door Sensors
Door sensors are, as the name implies, security sensors installed on the doors of your home. These sensors detect unnatural motions on and around the door area. When something trips the sensor, an alarm may sound, or the police may be automatically notified of the ongoing burglary.
A door sensor is perhaps the most basic piece of home security system you can invest in, since most burglaries are made through the front door. But for a larger house, you may want to invest in additional security, such as window sensors.
Home Security Systems – Window Sensors
Window sensors are also important, because windows are an access point to the more private areas of your home, and are in many ways bigger security risks than your home's doors. For maximum home security, you'll need to make sure your windows are also protected with sensors.
Window sensors come in many forms. Some are installed with the blinds/curtain apparatus to detect movement during unnatural times of the day. Others are installed on the sills and panes. No matter what shape and size your window is, there's a sensor for it.
Home Security Systems – Video Surveillance
Video surveillance is optional with most home security systems but in my opinion it's mandatory. Imagine being able to visually monitor the doors and windows outside of your home with video surveillance. As someone approaches your home – the video surveillance starts to record. This video feed can also be seen on your phone app too.
And finally, you might also want to invest in:
Home Security Systems – Motion Detectors
Certain rooms and areas in your home (such as hallways) are also great places to put some security measures. Motion detectors, which immediately trigger an alarm or notify the police, would be best in such locations.
These are just the basics — home security technology evolves by the year. If you'd like to enlist the services of a home security provider who stays on top of the developments — and offers you a nifty business opportunity at the same time — then I'd love to help you!
For the best home security systems in America today, visit Protect America at this website! Don't wait to protect your home and loved ones from burglars and intruders, get your FREE Quote and Order click here now your home security systems today.