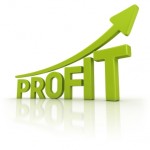 Here's a question: What's the best way to ensure your small business makes a profit? Without a doubt, it's to keep your overhead costs low, and maximize your sales per marketing dollar. Here are two innovative ways to do both in one swoop, no matter what your small business is all about.
It's All About The Cheapest Way To Sell
When starting a new business or product/service line, the smartest entrepreneurs take 3 steps: (1) They get their product/service ready to sell, (2) they find the cheapest ways to make a single sale, and (3) later refine their product and sales process.
Basically, the cheaper it is for the company to make a sale, the better. That's why lowering the overhead costs can have a significant impact on a business's profits. So any smart business owner constantly looks for ways to lower overhead while optimizing their marketing and selling efforts.
Let's start with the "lowering overhead" part:
#1 – Save On Your Credit Card Merchant Fee
When your business accepts credit cards, you're opening the doors to faster growth and more profits. Customers are more willing to make purchases when they know they have the option to swipe. Having a credit card service for your business will mean more sales in less time.
Perhaps the biggest problem with the credit card service is the credit card merchant fee that goes with it. Business owners usually lower their costs by comparing credit card services, but you can only go so far with that approach.
That's why savvy small business owners turn to services like 5Linx's Credit Card Processing. With such services, you enjoy the lowest credit card merchant fees anywhere, and you can also save money per swipe. What's more, there's the opportunity for referral business with 5Linx, and you also help find a cure for breast cancer. (To learn more about 5Linx's Credit Card Processing, click here.)
#2 – Try Text Marketing
Now let's move on to optimizing your marketing and selling efforts. What's the best way to reach out to your potential customers?
Brochures and business cards? Sure, if you can deal with the printing costs. Social media? Sure, but not everyone has profiles on Facebook or Twitter. E-mail? Probably, but people are already inundated with e-mail these days.
That's why the best way to reach out to your potential customers is through text marketing. Everyone checks all their texts! And it costs next-to-nothing to send a text message these days.
You can try services such as TextAlertz. It's a great way to keep in touch with your business's fans, stay on their radar, announce promos, and build your company branding. (Click here for more information about TextAlertz).
Want to know more great money-saving techniques for your own business? Then I've got just the thing for you!
To learn more about cutting down on your business's overhead costs and optimizing your sales and marketing efforts, visit my website today. Join my community of like-minded, hard-working workers and business owners. Also, want ideas on what business is best for you? Join my mailing list to find out!